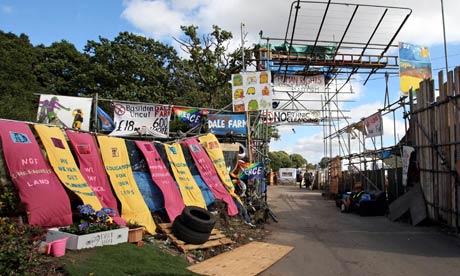 Dale Farm
residents are seeking a last-gasp reprieve from eviction by asking for leave to appeal against a decision last week to allow Basildon council to remove 86 families from the Essex Traveller site.
Last week Mr Justice Ouseley ruled
at the high court that Basildon council could go ahead with the eviction, which he decided was not "disproportionate", and blocked any appeal.
Applications for three judicial reviews, which sought to argue the eviction was in breach of their
human rights
and was unreasonable, were turned down.
Now residents are appealing directly to a court of appeal judge to decide if they have an arguable case for a full hearing, based on two more legal points, and are applying for a "stay" on council moves to remove them.
Lord Justice Sullivan is due to start hearing the Travellers' arguments at 11am on Monday, but if he refuses them permission to appeal, bailiffs could move on to the site that afternoon. Basildon council said last week that it would not attempt to enter the site to clear 49 of 54 plots before Monday....read more
http://gu.com/p/32k94/tf