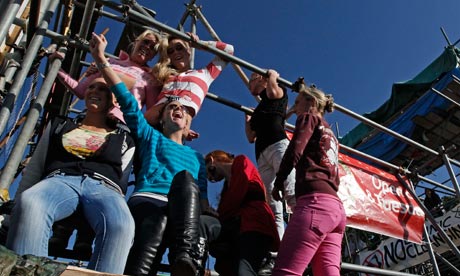 The government has blocked attempts by the
United Nations
to help negotiate a deal between Travellers at the
Dale Farm
site in Essex and Basildon council, which is set to send in bailiffs to evict 86 families from their homes, the Guardian has learned.
As an estimated 200 protesters and Travellers blocked the site's entrance at Dale Farm on Monday to prevent bailiffs from entering, it emerged that the government had refused offers of help from the high commissioner for
human rights
in Brussels.
Jan Jarab, Europe representative of the high commissioner for human rights, said the government had unofficially made it understood that the commission would not be welcome at the Dale Farm site.
Basildon council was understood to be in 11th-hour talks with the Travellers on Monday morning.
A council spokesman said fresh talks were "likely". He added: "We are happy to have a meeting to agree how to carry out this operation in a safe and peaceful manner, but talks about the legality of the eviction or to try and delay the operation are not on the table."
Jarab said: "We offered to be part of a negotiation to try and arrive at a less dramatic solution at Dale Farm. There was communication between the British government and our headquarters but it was made clear to us that we would receive a letter that that offer was rejected.
"It is terribly sad and I am disappointed. A forced eviction is a dramatic event for the people concerned."
The proposed evictions would send the wrong signal to other councils in the UK and other countries in Europe, he added.
"It is actually very symbolic: this is the largest Irish Traveller site in the UK and it sends the message across the UK and also across the European Union that the government is putting its weight behind an eviction-based approach."
At the site, several protesters had chained themselves to cars and concrete blocks to prevent the evictions, which they say will make 400 people homeless. Some residents have already pulled their homes off the site, many over the weekend, with a large number parked on the legal site adjacent to the unauthorised plot.
Wearing a blue boiler suit and resting on an old sofa cushion, a protester called Jessica, who did not want to give her surname, said campaigners were "showing physical support and physical solidarity".
She said: "Four hundred people are being made homeless. What are we doing throwing these people into destitution? Do we want more poverty in this country?
"The people here are losing everything: their homes, their land, the money they've spent on this land and their whole community. If they can't live in a scrapyard, where can they live? It is prejudice and discrimination and that's why we are here."
By mid-morning there was no sign of bailiffs attempting to enter the site, but a helicopter circling overhead was a constant presence. Dale Farm resident Kathleen McCarthy, from just behind the barricade, made a plea to Basildon council and prime minister David Cameron to stop the eviction.
"If you are human beings this could still be stopped. I would plead and beg to stop this," she said. "We'll go anywhere. You can have this scrapyard; we don't want it. We just want somewhere to go."
http://bit.ly/plm1Sz
#DaleFarm