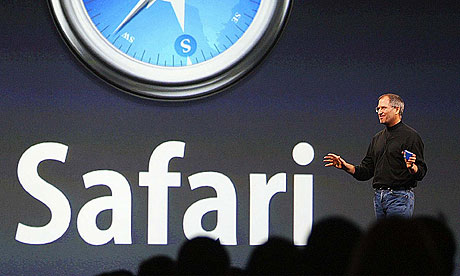 Google has come under attack for violating users'
privacy
and ignoring their wishes after admitting that it intentionally circumvented security settings in
Apple
's
Safari
browser to track users on both desktop computers and iPhones.
A number of other advertisers exploited the loophole it had created to track those users too.
"Our data suggests that millions of users may have been affected," Jonathan Mayer, the independent researcher at Stanford University who discovered the workaround by the search giant, told the Guardian.
An Apple spokesman said: "We are aware that some third parties are circumventing Safari's privacy features and we are working to put a stop to it."
The Electronic Frontier Foundation (EFF), a pressure group for users' rights online, said that then admission was bad news for the company, coming so soon after the news that it is aiming to unite the data it keeps about people using different parts of its services such as YouTube and its main search engine.
"It's time for Google to acknowledge that it can do a better job of respecting the privacy of web users,"
the EFF said in a statement
, in which it warned: "Google, the time has finally come. You need to make a pro-privacy offering to restore your user's trust … it's time for a new chapter in Google's policy regarding privacy. It's time to commit to giving users a voice about tracking and then respecting those wishes."...read one
http://www.guardian.co.uk/technology/2012/feb/17/google-admits-tracking-safari-users