Shrien Dewani accused of plotting wife's murder
Taxi driver Zola Tongo says Anni Dewani's husband asked him to arrange the death while couple were on South Africa honeymoon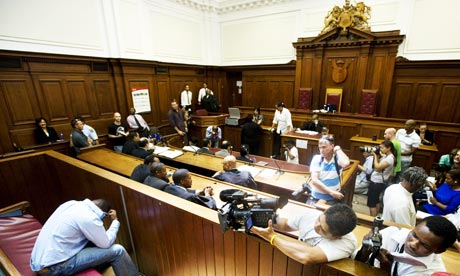 Shrien Dewani, a businessman from Bristol, was today named as the instigator of the murder of his wife, by a man found guilty of the killing.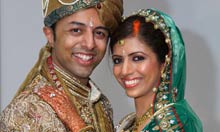 In a plea bargain read out in the Cape high court this morning, the couple's driver Zola Tongo, 31, who became a witness for the state in the investigation into the murder on 13 November, claimed Dewani paid him 1,000 rand (£90) to organise the killing of his wife, Anni Hindocha, which took place in a Cape township.
But South African police refused to confirm whether they have asked British police to arrest 31-year-old Dewani, from Westbury-on-Trym. A spokesman for the South African national prosecution agency said it had not yet been asked to prepare an extradition request.
Tongo was today found guilty of the crimes of kidnapping, robbery, murder and obstructing justice. Judge John Hope sentenced him to an effective 18 years in prison. Two other suspects in the case, Mziwamadoda Qwabe and Xolile Mngeni have denied involvement and are due to stand trial in February.
As he left court after the hour-long hearing, Anni's father, Vinod Hindocha, 61, called for the case to be completed speedily because "each day in my life is torture''. He thanked people around the world who had sent condolences through Facebook.
Anni, a 28-year-old Swedish engineering graduate , was shot dead in Khayelitsha township, two weeks after celebrating a traditional Hindu marriage ceremony in Mumbai with Dewani.
Dewani, who runs a chain of nursing homes in the south-west of England, has claimed in numerous interviews that the car the couple were travelling in, driven by Tongo, was hijacked during a township night out.
However, reading out a 20-page indictment this morning, Rodney de Kock, director of public prosecutions for the Western Cape said: "The alleged hijacking was not a hijacking but part of a plan of subterfuge which Shrien Dewani and the accused [Tongo] had designed to conceal true facts ... that the deceased was murdered at the instance of her husband.''
As Tongo, dressed in a blue shirt stood in the dock with his head bowed, De Kock read his confession to the court. It said Tongo had been approached on 12 November by Dewani at Cape Town airport.
Tongo drove the couple to their hotel and "after we arrived, Shrien Dewani approached me alone and asked me if I knew anyone that could 'have a client of his taken off the scene, a woman,'" he said. According to Tongo, Dewani was "willing to pay an amount of R15,000. He said he had US dollars and asked if I knew of a place where he could exchange US dollars for rand without producing his passport."
Tongo claims he approached a friend, Monde Mbolombo, who put him in touch with Qwabe. Tongo claims Monde wanted R5,000 for the job, leaving R10,000 for the hitman or hitmen.
Tongo claims that on the Saturday night, he took the couple to see sights in Cape Town before driving them to Gugulethu township. They missed the rendezvous with the hitmen, he claims, and he drove them to a restaurant in Somerset West, about 30 miles (48km) from Cape Town, for supper.
Tongo says he was in regular mobile phone contact with Qwale, and brought the couple back to Gugulethu for the staged hijacking.
"Qwabe got in at the driver's side and Mngeni got in at the back. The Dewanis were made to lie down on the back seat and Qwabe drove off. Shrien Dewani and I continued to pretend that we were being hijacked,'' Tongo said.
The people-carrier, a silver Volkswagen Sharan, was found the next day in Khayelitsha township with Anni's body in the back seat.
Tongo's confession concludes: "Subsequent to the deceased's death I met with Shrien Dewani at the hotel on 16 November where I received R1,000 as payment for my role in orchestrating the murder, robbery and kidnapping of the deceased."
The publicist
Max Clifford
, who has been hired by Dewani, told Sky News today his client thought the allegation of involvement in his wife's murder is "absurd and obscene", and that he was "totally innocent of the horrendous crime".
Clifford said: "It's horrendous enough what happened and to have this on top of it is an absolute nightmare. We have got reservations about what has been given as evidence today; let's see what evidence there is to back up these accusations."
South African authorities had not contacted Dewani, who returned to Britain soon after his wife's body was found, Clifford said.
A spokesman for
South Africa
's national prosecuting office, Mthunzi Mhaga, said a bid to request Dewani's extradition was "a matter that is likely to be considered" and that "based on what happened in court today, obviously the investigations are going to intensify".